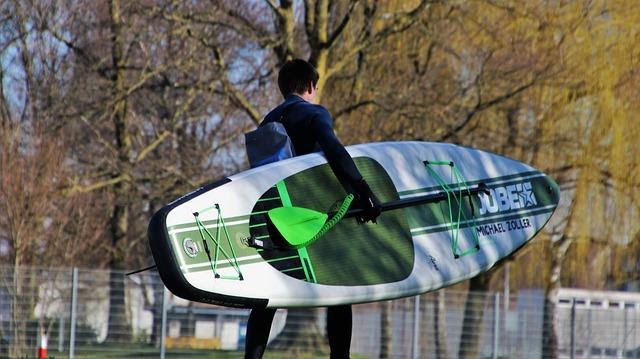 You've probably done it once, several times, or are already way into stand-up paddleboarding (SUP) by now. Whether that's on an ocean, river, or lake, SUP can be an amazingly unique way of viewing the natural world by accessing some stunning places that might be inaccessible on foot.
If you're planning to head out on the water for a day of recreational stand-up paddleboarding, you just need a few essential SUP gears. With that in mind, the following checklist will help you pack lightly for your next SUP tour and make your experience more cozy and fun.
Essential SUP Gear To Pack
There are certain pieces of SUP gear you'll need to maximize your paddleboarding experience. You'll need to be comfortable as well as protect yourself while paddling. Below is a list of essential pieces of stand-up paddleboarding gear you need before hitting the water:
Stand-up paddleboard (SUP)
SUP paddle
SUP leash
Fins for SUP
A pump for an inflatable board
Personal floatation device (PFD) or lifejacket
A rescue whistle
A flashlight or headlamp (required when SUPing after sundown).
Basic Apparel To Pack
Proper clothing and footwear are crucial to your health and safety while SUPing. Obviously, paddleboarding exposes you to the elements, and fine apparel will protect you from those elements. You'll need clothing that's capable of protecting you from sunburns, keeping your body dry and warm, especially when paddling in cold water or weather conditions.
For cold water or weather conditions (below 60℉ or 15.6℃), you can pack the following items:
A wetsuit or neoprene tops and shorts
Paddling gloves
Synthetic/wool socks and cap
For warm water or weather conditions (above 70℉ or 21℃), pack the following clothing:
A swimsuit/bikini or board shorts
Neoprene booties/sandals or water shoes
Hat retainer leash
Sun-shielding hat
A sun-protective shirt or rashguard
Other SUP Gear Items
The following list consists of optional SUP gear and accessories. They all depend on how you want to use your paddleboard. Generally, if you're planning to go on an extended day or overnight SUP tour through open water, you'll need many of the following SUP gear items:
A compass, map, GPS device, or personal locator beacon (PLB).
First aid kit
Dry bags or deck bags
A waterproof case
SUP carry strap and board transport cart
Weather/VHF radio
A knife and fishing gear
Personal Items To Pack
These items are also optional, depending on your specific lifestyle. All in all, every paddleboarder should pack several of the following listed personal items:
Sunglasses and sunscreen
Insect repellent and foot/skincare products.
Lip balm
Hydration reservoir, water bottle, or waist pack
A towel
Snacks or lunch
Cellphone and camera in protective case/bag
A small amount of cash or credit card
Packing for a Several Nights SUP Tour
The items mentioned above are essential for both a one-day and several nights SUP tour. If you're going to extend your SUP tour to several nights, you'll need to pack some extra essential items to serve you during your vac.
Food
You can go as alpine or extravagant as you like with this one. You carry a small cooler full of dehydrated space food, beverages, or BBQ goods. This will depend on your personal preferences and how much weight you intend to carry. We recommend going halfway and packing food pouches. This will be pretty lightweight, easy to prepare and dispose of the garbage.
Essential items you'll need to pack:
Easy to prepare food
Gas stove and spare gas
Titanium cookware
Spork
A lighter and backup waterproofed matches
Water
Keeping hydrated during your SUP tour is super important. You'll drink at least 2 liters of water per day, which means you'll drink plenty on your adventure. Since you want to pack lightly for your tour, bringing lots of bottles of water in your backpack may not be an option.
We advise bringing enough cash to buy drinking water from the nearby stores. On the other hand, if your destination has fresh water available, you can get a portable water filter or additional water purifying products.
Hygiene
When it comes to hygiene, you'll need to bring several items for your body hygiene, gear, and other things. We suggest not carrying more than a pair of each item, but it all depends on the weight you're willing to bear. Below is your handy checklist to pack:
Toothbrush and toothpaste
Antibacterial micro towel
Toilet rolls and sanitary wipes
Dishwashing liquid
Where Do You Put All These Items?
You'll need 1 or 2 waterproof bags, depending on their size. You can use one bag to pack all the essential SUP gear pieces and use the second bag to pack the other items.
Note: Even small waves can wash over your loaded board and wet everything that's not protected. Ensure you get a waterproof SUP backpack to adequately protect your gear from the water.
Bottom Line
This article provides an easy-to-follow guide on how to pack lightly for your next SUP tour. Whether you're planning a one-day or a few nights SUP tour, use this guide to packing essential items that'll make your experience more comfortable and fun. New to paddle boarding? Check this guide on how to paddle board!